How and when to apply
To come to Lund as an exchange student, your home university must have a formal agreement for exchange studies with Lund University, which can be either on faculty, department or university-wide level. In order to apply to the Faculties of Humanities and Theology there needs to be a faculty specific exchange agreement. Check with the International Office at your university to see if there is an agreement with Lund University.
Before you begin your application you need to have been nominated by your home institution. Please also note that you send in your application for LU Housing at the same time.
Submitting your application
Application periods:
Autumn semester: April 1 - April 15
Spring semester: October 1 - October 15
Applications are done online in our online application system: SoleMOVE. Nominated students will receive an email containing information and instructions on how to complete the online application prior to the application period opening.
We require you to include the following supporting documents in your online application:
Official academic transcript of records (in English) including the courses you are currently taking
CV
Statement of Purpose (in Swedish if you want to study courses offered in Swedish, otherwise in English)
Proof of language proficiency such as a high school diploma, if you want to take language courses in German, Italian, French and Spanish.
Bachelor degree and transcripts, if you are applying to Master-level courses
Please check the Application guide for detailed instructions about the application system, found under the headline "Application for courses and housing" (You will be directed to a new window).
English language proficiency
It is important that you have sufficient proficiency in the English language to be able to successfully study the courses open to exchange students. While we do not generally require you to submit a formal English language proficiency test, your level of English should be equivalent to IELTS 6.5/TOEFL 90.
Study plan
Your application must include a realistic Study Plan. Please make sure that you meet the specific admission requirements for the courses you select at Lund University.
Please list your course selection in order of priority. Exchange students can study a maximum of 30 ECTS credits per semester and 60 ECTS credits per year in addition to the SUSA course which is worth 3 ECTS credits.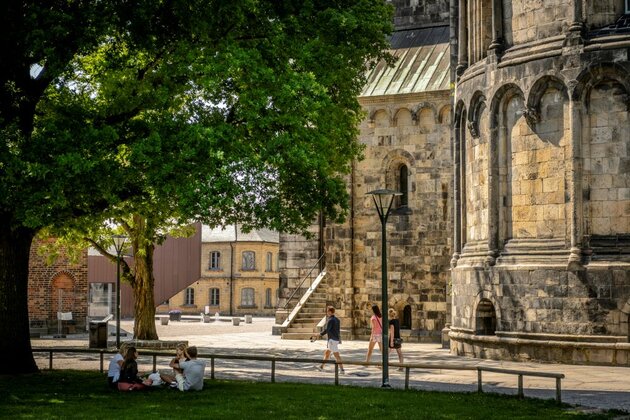 Swedish language and orientation programme (SLOP)
The Swedish Language and Orientation Programme, SLOP, offers incoming students an introduction to Swedish society, culture and language. Please note that you are expected to prepare for the course at home before coming to Sweden.

Within the SLOP, you will be able to follow a course called SUSA (comprising 3 ECTS credits) between Introduction Day and the start of the semester. The SUSA courses (SUSA01, SUSA02 etc., depending on the level of your Swedish) give you a glimpse of what it is like to live in Sweden, and a useful introduction to basic Swedish vocabulary and grammar.
Additional courses in Swedish
If you want to study additional Swedish, you may apply to one of the SVEE courses. You need to include this course in your Study Plan when you apply for exchange studies. Each SVEE course is worth 7.5 ECTS credits.
Swedish language learning
If you want to get started with your Swedish language learning before setting foot in Lund, you can either take a look at Learning Swedish, an online course developed by the Swedish Insitute, or download Duolingo and get started with Swedish there!