Lina Sturfelt and Maria Småberg
Joint Faculties of Humanities and Theology
Maria and Lina simply contacted a colleague abroad who is the director of an institute from which they wanted to learn more about teaching humanitarian history. They were welcomed very warmly and gained valuable experience from the exchange, in terms of both research and teaching.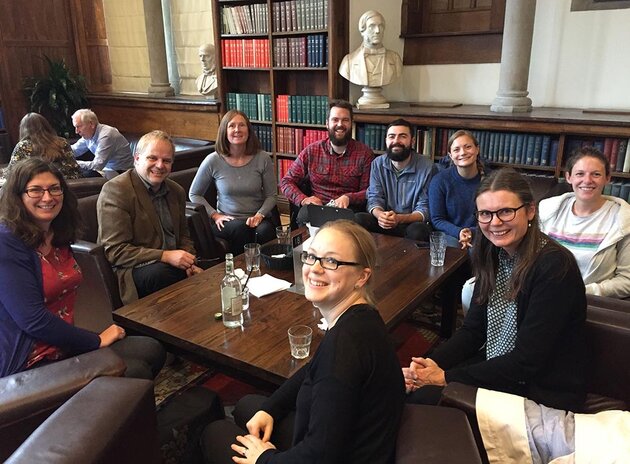 Hello Lina and Maria. What is your department and what are your subject areas?
We are both historians based at the Department of History. Lina is a senior lecturer in human rights and now head of department. Maria is a senior lecturer in peace and conflict studies at the Department of Political Science and director of studies for the National Graduate School of Historical Studies.

You teach a lot individually. Do you also teach together?
We have not taught together, but we have similar research interests and each have extensive experience in interdisciplinary teaching. As a first step, we would have liked to develop an interdisciplinary course on humanitarian history at the Master's level. Unfortunately, due to administrative obstacles, new assignments and the pandemic, this has not yet been realised. Brexit has also made it more difficult to invite British guest lecturers.

A few years ago, you travelled together to the University of Manchester with Erasmus funding. How did you get the idea to do that?
We chose to go to the Humanitarian and Conflict Response Institute (HCRI) at the University of Manchester, as it is a well-known and leading institute in the research field. Although the centre is interdisciplinary, it is an environment for training and research on humanitarian aid work with a historical/humanistic profile and is largely made up of historians. At the same time, we were also interested in learning more about their practice-oriented approach and their collaboration with humanitarian actors outside of academia.

What was the purpose of your mobility?
The purpose of the exchange was primarily to gain inspiration and knowledge of HCRI's programmes and organisational structure. Another goal was to network in order to build a stronger international research and education environment related to humanitarian aid work at Lund University.

How did you get in touch with colleagues there?
We first contacted the director of the institute, Bertrand Taithe, by email. Once the exchange had been approved, we went ahead and strategically selected a few people we wanted to meet and scheduled meetings with them. Once there, we also got in touch with a few more key people.

Was it complicated to apply for Erasmus+ staff mobility?
Our impression was that it was a bit complicated to apply, with many different steps, and also difficult to get a grip on the application genre.

What did you experience in Manchester?
We were at the University of Manchester for three working days. We had a jam-packed programme of individual meetings with the director, heads of research, programme coordinators, directors of studies, teachers and doctoral students. We also attended a departmental meeting, a research seminar and sat in on a lecture on the Master's programme. They also invited us to an after-work gathering at a pub and a lunch at the faculty club. We also had time to visit a museum and walk around the city. We were generally very well looked after and were given temporary workplaces in the doctoral students' room.

What do you think you gained from the exchange, in terms of research, education and personal experience?
In terms of research, we have both gained access to a new international research network. For Maria, this has also led to an invitation to a workshop that resulted in participation in an anthology to be published by Manchester University Press. We have used parts of the institute's research in our research and teaching, for example in the course "Human Rights in the History of Politics and Philosophy" in the international Master's programme in human rights. Pedagogically, we have also been inspired to create new course structures, new course literature and new pedagogical ideas when designing teaching. Personally, the exchange deepened our professional collaboration and relationship. Another important aspect was that we came back with fresh eyes for our own activities.

What was the best part of the exchange?
The best thing about the exchange was having time to reflect, to learn from the experiences of other teachers/researchers, and to gain new inspiration.

What was most challenging?
The most challenging thing was that the programme there was very busy. There were many meetings and impressions in a short time.

Do you have any plans for further mobilities in the future?
The mobility left us wanting even more, and we would love to do it again if the opportunity arises. We have also presented our experiences from the exchange at the department and encouraged our colleagues to travel.