Juhan Björn
Joint Faculties of Humanities and Theology
Juhan spent a spring semester at the same university as his assistant supervisor, which was very rewarding. The HT Faculties did not have an Erasmus+ student exchange agreement with the University of Cologne, but thanks to the contact with the assistant supervisor, such an agreement could be signed – all for Juhan's sake.

Hello Juhan. In what subject are you a doctoral student? What is the topic of your thesis?
Hello! I am a doctoral student in Semitic languages. I am writing my thesis on an early medieval medical manuscript on bloodletting. The manuscript that I am editing and translating is originally written in Arabic, but there is also a later medieval translation into Hebrew that I am using as support.

You travelled to Germany on an Erasmus+ student exchange in spring 2019. Tell us more!
I travelled to Cologne for a semester, "Summer Semester", from April to July. My assistant supervisor invited me there so that I could take part in his course on medieval Arabic and Hebrew medical manuscripts. Through this course, I gained a deeper understanding of the subject and was able to expand my knowledge in the field. In addition to the medical history studies, I learned more about the rich Jewish history of Cologne by studying local Hebrew epigraphy and palaeography. I also took a course in Arabic calligraphy.

How did you initially make contact with your assistant supervisor in Cologne?
My first meeting with my assistant supervisor took place in 2014 at a symposium in Lund. It was very brief but served as an important first contact – this man became my supervisor when I wrote my second Master's thesis in spring 2018. It was natural for him to be involved in this project as well.

What did you get out of your mobility? What did you take with you?
First of all, it was great to have the opportunity to go abroad to study something tailor-made for me. It is always instructive to live and study abroad, to see how people live, especially how different it can be at university. Cologne is a very nice city, and the area is beautiful, so I took the opportunity to travel around when I could. Even my courses in Hebrew epigraphy and palaeography included some trips to cemeteries and to some castles where Jewish gravestones had been used in the construction. I would never have been able to know or see this otherwise! It was an experience that inspired me to pursue my subject and made me aware of more work opportunities in this field than I had previously been aware of. On top of that, I made contacts that later invited me to conferences in both Germany and Austria.

What was most enjoyable or rewarding about the exchange?
The most rewarding part of my stay in Cologne was undoubtedly the courses I took at the university. I had the privilege of learning from some of the top experts in the field, and was able to deepen my knowledge in a way that I had not been able to before. I also appreciated the welcoming atmosphere at the institution. It is not every day that someone comes from another country with such specific requests!

What was most challenging?
It was sometimes difficult to feel at home in such a big city, and it was not easy to find friends to socialise with. Also, trying to understand everything that was going on around me in German was a challenge, especially in the beginning. With time, it also became easier, and I enjoyed using German on a daily basis. The courses on manuscripts and Jewish documents were taught in English.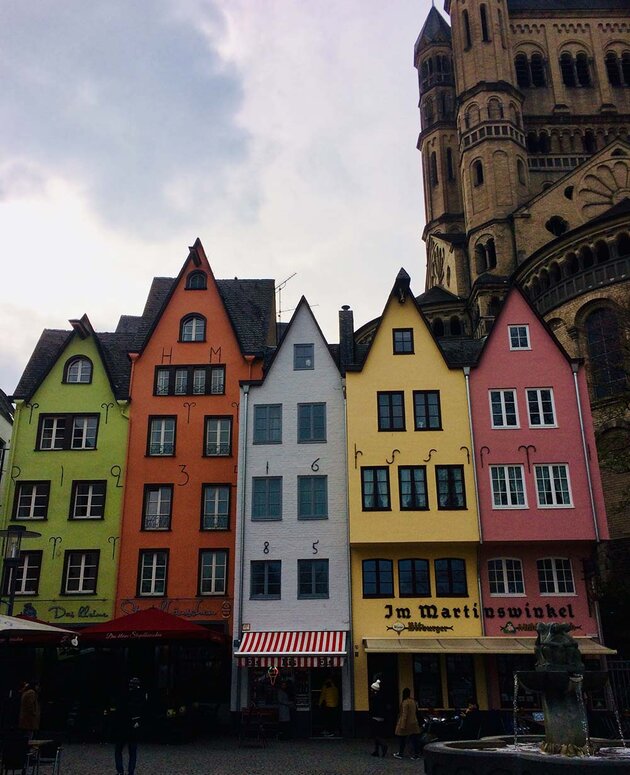 How did things work financially? Were you reimbursed for your expenses?
It worked well because I had a scholarship from a foundation affiliated with the university and funds from Erasmus+, so I did not have to worry about the expenses there. This was nice because I still had to pay for my apartment in Lund, which I did not manage to rent out during the period.

Was it complicated to apply for the student exchange?
No, not at all! Everything went very smoothly. It started with my supervisor in Germany inviting me. Then the International Office of the HT Faculties and Cologne worked out an agreement so that I could go within the framework of Erasmus+. It was great to realise that we are not limited by the existing agreements, but that new agreements can also be created if necessary.

You have also travelled abroad during your doctoral studies. Is there any particular experience or exchange that you would like to share?
Initially, I had planned to spend a lot more time abroad, but this did not work out in the end due to all sorts of factors. Even though we doctoral students may have a clear idea of our goals and development opportunities, the supervisor may put limits on some ideas. Also, visa problems may arise, a pandemic may interfere with an already started stay abroad, or a staff exchange may not be possible at the desired workplace. No matter what, the International Office was always ready to make my plans a reality.

Do you have any tips for other doctoral students who are also considering travelling abroad on an exchange?
Go for it! Talk to the International Office about all the possibilities. There is so much you can do. Be prepared for possible frustration and long waiting times in bureaucratic countries. It is good to set things in motion early. It is also good to keep in mind that – like so much else in life – sometimes things may not work out as planned. In my experience, if you want to go and there is a place that can accommodate you, the International Office can make it happen.