Greer Jarrett
Joint Faculties of Humanities and Theology
Greer thinks the Erasmus programme provides excellent oppor­tunities for young researchers to travel around Europe. The traineeship grant was a welcome financial contribution during his long stay in Norway and, although there was some paperwork, administrative support was available.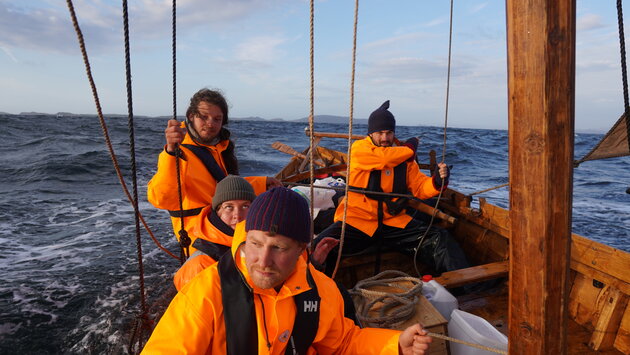 Hello Greer! You are a PhD student at the Department of Archaeology and Ancient History. In which subject area? What is your research topic?
I'm an archaeologist with a general interest in ancient seafaring and experimental archaeology. Within these fields, I focus on reconstructing the sailing routes used by sailors from the Viking Age in Western Scandinavia. To do this, I undertake experimental voyages onboard historical boats and use the data from these voyages to create maps of Viking Age sailing routes using digital cartography.
You have travelled abroad on Erasmus+ staff exchange. Please tell us more!
I travelled to Trøndelag in central Norway, where I spent 11 months learning about traditional sailing and boatbuilding techniques at Fosen Folkehøgskole, a traditional craft school near Trondheim which has trained many of the most accomplished boatbuilders and traditional sailors in Scandinavia. From here I conducted a series of sailing trials and trial voyages onboard traditional clinker-built, square-rigged boats. These vessels are extremely similar to those used in the Viking Age, and thus served as analogies for exploring the sailing routes of this period. The sailing trials were conducted first in and around the Trondheim Fjord, before setting out on two longer voyages up to the Arctic Circle and south to Bergen. In total I covered around 1,500 nautical miles on open wooden boats powered only by oars and sails.
Erasmus+ staff mobility provides funding for a maximum of three weeks, however you stayed so much longer. How did that all work out?
The traineeship programme was able to fund me for a longer period, so I chose this option instead. The funding I received through this programme was invaluable for supporting my stay in Norway and the costs of conducting fieldwork there.
How did you get in contact with the colleagues in Norway, prior to your mobility period?
I called them! It took a few long conversations to explain what I wanted to do, but once they understood they were extremely helpful and welcoming. I have kept in touch since I got back and am planning on going sailing in Norway again this summer.
At what stage in your PhD studies did you travel abroad?
I spent the majority of my second year abroad. In archaeology it's quite typical to spend the first year doing desk-based research, then conducting fieldwork in the second year, before coming back to write and publish in the last two years. So the exchange programme fitted in well with the general research plan.
Do you think that the exchange has been and will be beneficial for your research and for your future career? In what ways?
Absolutely. I was able to conduct a much more extensive fieldwork campaign than would otherwise have been possible, providing me not only with data about my subject but also the skills to sail these kinds of boats myself and thus continue to explore these routes on my own boat!
Do you feel that you have created or strengthened networks that you will be able to benefit from in the future?
Yes, for sure. During my exchange I met boatbuilders, sailors, fishermen, sailmakers, and students of all of these crafts. All these people are outside of the academic world, and possess an incredible wealth of knowledge and skills that cannot be found in books. Through their wisdom and experience my ideas and assumptions have been challenged and transformed, pushing me to integrate other perspectives and hopefully creating richer and more inclusive research as a result.
What was the best part of your mobility period?
There were many great parts, but the arrival back to Trondheim after the 18 day voyage to Lofoten and back was definitely an amazing moment of collective joy and achievement. It was proof that an experienced crew and a well-handled boat can achieve much, much more than I had ever imagined.
What were the challenges?
The fieldwork was tough. I spent about 500 hours sailing or rowing, often for several days at a time, enduring every kind of weather imaginable, in an attempt to test the performance of these boats under the widest possible range of conditions. The wear and tear on your body and mind is pretty major, making the achieve­ments of ancient sailors all the more impressive.
What about the economical side of your exchange? The Erasmus+ traineeship was of help for you?
The Erasmus+ traineeship provided me with funding for the entire period, but did not cover all expenses. In combination with several other grants and my own earnings, I was able to stay afloat despite the steep price difference between Sweden and Norway.
How did you find the process of applying for the Erasmus+ funding, and reporting back after the mobility?
Throughout the application process I received constant support from the International Office, making it a lot easier to navigate the bureaucratic side of things before heading off to Norway. The report after my exchange took a bit more effort and coordination to put together as I was dependent on paperwork from various parties, but in the end it all worked out.
Is there anything else you would like to tell us? Do you have any tips or suggestions for PhD students who will venture out on mobilities in the future?
I think this system is a great way to support early-career researchers who need to gather data or develop their network abroad. The International Office have lots of experience helping people from Lund University use the Erasmus+ system to its fullest potential, and will support you throughout the process. The system is flexible enough to accommodate for even the most unorthodox of research projects, and proved to be a huge help in supporting me when other funding options weren't possible. Just remember to keep on top of the paperwork!