Annakim Eltén and Ann-Sofie Zettergren
Joint Faculties of Humanities and Theology
Annakim and Ann-Sofie point out how useful it can be to travel with a colleague from another department or faculty. Join them in Oxford!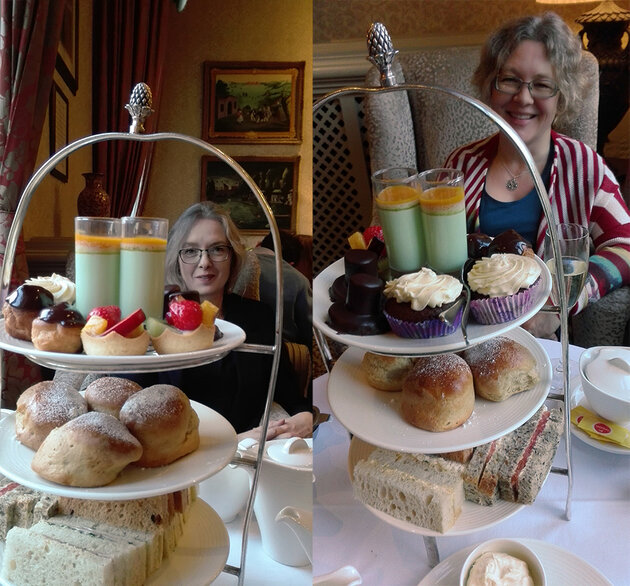 Hello Annakim and Ann-Sofie. Would you please introduce yourselves and tell us what you work with?
We are librarians working at the HT Libraries and the Social Sciences Faculty Library, respectively.

What made you decide to do this?
We were working more and more with research data, primarily supporting researchers in their data management, and needed to improve our skills. Where else would we go but to Oxford, where they have been working with data for social scientists and humanists longer than in many other places. Data management is an unusually heterogeneous subject, where you have to keep up to date with both the strategic and the practical and tangible solutions.

How did you get in touch with someone on site in Oxford?
We came up with the idea late and only had the autumn holiday week available in our calendars. We wrote to the heads of the organisations we were interested in and asked to visit them. They all took the time to meet us, and most of them had also invited colleagues to give us the broadest possible picture.

How long were you gone? What did the exchange consist of, and what did you experience?
We were in Oxford for a full working week, travelling there on Sunday and back home on Friday. The week was very intense, with demanding meetings in different parts of the city (Oxford is also a decentralised university with activities in multiple locations).

How was it to meet with your colleagues in Oxford?
All meetings gave us what we hoped for, inspiration and examples of how to work strategically and practically. Since we met with managers, librarians and research engineers, we got several perspectives and approaches that we could take home with us.

What was most rewarding?
The opportunity to learn from so many experiences in the same field in a short period of time. You get a good focus when you go to another place and meet colleagues there.

Exploring our professional role and relating what we experienced to our everyday work life at home together with a colleague. Since we do not share the same workplace (but work in two different libraries in different faculties), it added an extra dimension and we learned things we might not have thought to talk about otherwise.

Experiencing Oxford during the semester was not bad either. 😊

What was most challenging?
Having time and space to shift between meetings with colleagues in the different organisations. It is important to have space in the schedule to digest and reflect.

Did you have a lot of work to catch up on when you got back home?
We had a deadline for a report that we wrote together with other colleagues in Lund in the middle of the week. I would not recommend this. As we recall, the workload was not overwhelming when we got home, but that was probably partly due to the fact that we went on a school holiday. However, it would have been wise to leave some space in the calendar when we got home for various follow-up work.

Would you recommend this to other colleagues?
Yes, absolutely!

Do you have any tips for other staff who want to travel and job shadow for work?
Don't go alone. Bring a colleague, preferably from another workplace or with a different skill set/role, and share the experience and professional development.