Luisa Ammirati
Joint Faculties of Humanities and Theology
Luisa came to Lund from Bologna in order to learn more about digital 3D modelling. Her first impression of Lund was how nice it was inside the LUX building, and all the flowers in the spring. She was very well received by the colleagues at the DARK Lab, the Laboratory for Digital Archaeology, and soon felt like one of the gang.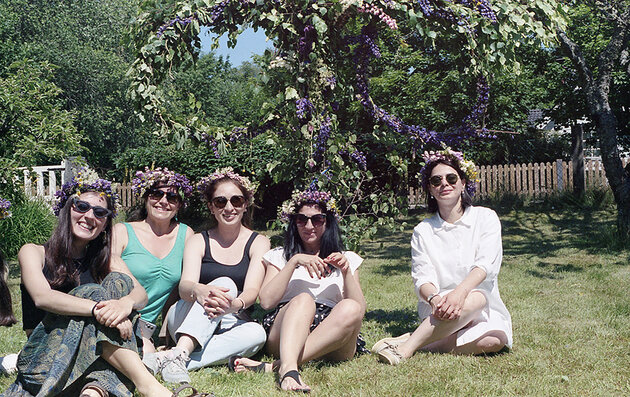 Hello, who are you, and where are you from?
My name is Luisa and I'm 25 years old. I just completed my Master's Degree in Digital Humanities and Digital Knowledge at the University of Bologna in Italy.
How come you decided to come to Lund University?
My lecturer for the Interaction Media Design course, who also became my thesis supervisor, recommended that I reach out to Lund University's DARKLab for my curricular internship. Upon reviewing their ongoing projects, I decided to go for it!
What is the DARKLab?
It is a unit at Lund University, the Laboratory for Digital Archaeology.
What was the purpose of your visit? How long were you here? Was it an Erasmus+ mobility?
I received an Erasmus+ traineeship scholarship, which enabled me to study and complete my three-month curricular traineeship from April 1st to June 30th, 2022.
Do you remember your first impressions of Lund and of Lund University?
Absolutely. Lund struck me as an incredibly charming and peaceful little town right away. I was fortunate to find accommodation that wasn't too far from the university, which made my initial arrival a lot smoother. I recall my first tour of the university, particularly the LUX building that was associated with Theology and Humanities. It was modern, well-designed, and stunning, making it an ideal place to work. As the first week progressed, spring gradually arrived, and I noticed new trees in full bloom on the way to the university. It was a magnificent explosion of colours that will always stay with me.
What was the most positive thing(s) about your mobility period in Lund?
During my visit, I gained a lot of knowledge about 3D modelling, which was probably the most significant aspect of my Master's course in terms of time invested versus acquired skills. The best part of it all was being a part of a working team, DARKLab, where the exchange was constant and extended beyond the boundaries of the workplace, enriching the lives of everyone involved. I felt respected and valued, as though I had been working there for years, just like my colleagues. The peaceful and meritocratic atmosphere of the workplace is undoubtedly the most memorable aspect of my experience.
What was the most negative thing(s)?
Two external factors affected my experience: distance from home in Italy and the weather. When I needed to go home on short notice, the expensive plane tickets and long travel times made me feel isolated. Additionally, the rainy weather in May limited my ability to explore the city outdoors.
Would you have enjoyed a mentor during your stay here?
Although my tutor at work and colleagues were extremely helpful in integrating me into the workplace and the new environment, having a mentor would have been beneficial. For newcomers, a mentor would be an essential figure for guidance and support.
What do you bring with you into the future, from your period in Lund?
I gained new friends, whom I hope to collaborate with in the future, and a positive work experience that was both productive and reassuring.
Would you engage in such a mobility period again, if given the chance?
Yes, I would say so. As a recent graduate, I am still exploring my career path and future plans. However, if given the chance, I would definitely consider returning to Sweden and Lund University for another experience in such a vibrant and dynamic environment.