Ryszard Bobrowicz
Joint Faculties of Humanities and Theology
According to Ryszard, there are no real challenges to being abroad on research stays. He is used to travelling and prepares his exchanges carefully. However, it is inevitable that you will be tired and need some time to recover upon your return.

Hello Ryszard! You defended your dissertation in 2022. At what department were you a PhD student, and what was your area of research?
At the Centre for Theology and Religious Studies, within Practical Theology. My dissertation focused on the so-called "multi-faith spaces", that is, those spaces that you can find at airports, hospitals, universities, etc., that are meant to provide a space for religious or contemplative practices within public institutions. I was interested in what those spaces tell us about the approach to religion in the public sphere more generally.
You travelled abroad on Erasmus+ staff exchange on several different occasions. Please tell us more!
Actually, at the moment of writing I just got back from my sixth Erasmus+ staff exchange. I did quite a few different things during those. Each time, I enjoyed an incredible generosity on the part of my hosts. First, I went to Winchester in the United Kingdom, to job shadow the Dean of Spiritual Life at the University of Winchester, dr. Terry Biddington. He showed me not only how his team developed a whole range of contemplative practices for staff and students at the university, but also provided me with an insight into how such arrangements are made in other institutions, e.g., Immigration Detention Centers. After that, I went for two more training exchanges: once back to the UK, although to Scotland this time, to learn more about the operations of the Centre for Theology and Public Issues at the University of Edinburgh; and once to the Theological University of Apeldoorn in the Netherlands, in both places trying to learn more about how they combine their scholarly life with public engagement.
I also went on three teaching exchanges, all to the Loyola Institute at the Trinity College Dublin in Ireland, where I taught at all levels from BA to PhD. The first time I was supposed to go to Dublin, I had to postpone my visit due to the COVID-19 outbreak. Nonetheless, I did my prepared classes online, which started a long-term relationship. From then on, I regularly visited Dublin to give different classes, seminars, and consultations. Again, I was also interested in the institutions' public engagement, which is why one of the exchanges was a combined, teaching/­training exchange.
Each time, my exchange was about one to one and a half week long.
How did you get in contact with the colleagues in Great Britain and the Netherlands, prior to your mobilities?
I knew all of my hosts well before applying for the exchanges, thus getting in touch with them was not a significant problem – a short email exchange explaining my intention was usually enough to agree on all essential elements required for the application.
At what stages in your PhD studies did you travel abroad on these mobilities?
I did my exchanges all throughout my studies, with last two exchanges taking place already after my doctoral defense.
Were the exchanges beneficial for your research and for your future career? In what ways?
The exchanges were incredibly helpful for both my research and my career. While these exchanges are not supposed to focus on research, but rather either on professional development or teaching, the connections one makes and the activi­ties one takes part in often support one's research nonetheless. In Winchester, I not only developed professionally, learning about the spiritual care at the university, but I also learned a lot of valuable insights concerning the subject of my doctoral degree – most importantly, about the multi-faith spaces in the UK. The meetings with colleagues in Edinburgh, Apeldoorn, and Dublin resulted in different types of research collaborations later on: e.g., in common work on issues such as religious literacy (Apeldoorn and Dublin) or migration (Edinburgh – we have two research projects funded by both the UK and Swedish funders).
Do you feel that you have created or strengthened networks that you will be able to benefit from in the future?
As mentioned above, absolutely yes, I am already enjoying the benefits of these strengthened networks.
You actually initiated an Erasmus+ exchange agreement with a university in Italy. Please tell us more!
After one of the conferences I organised, a keynote speaker from Naples wanted to continue collaboration and proposed to sign a mutual agreement between Lund and Naples, so that we can have staff exchanges in the future. I immediately asked the International Office and, after a brief exchange, the agreement with Università degli Studi di Napoli Federico II was in place!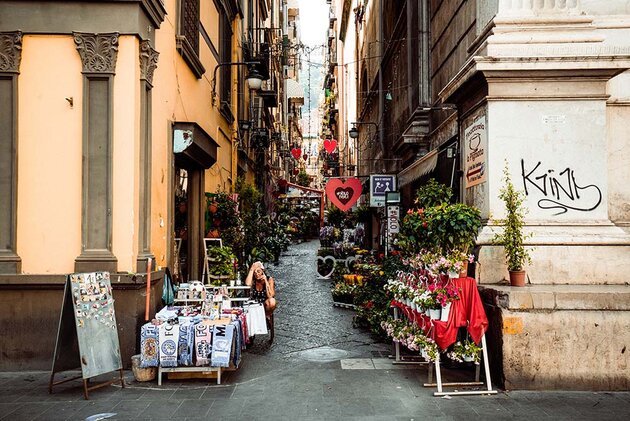 What was the best part of your mobility periods?
Well, it is hard to pinpoint just one thing – the opportunity to travel to these places without worrying too much about the costs, the possibility of learning about different academic contexts, and meeting great people would all be the number one.
What were the challenges?
I encountered nearly no challenges, although as with all travelling, there is an element of tiredness – if you go for an intense exchange, it usually means that in the end you come back devoid of energy and need a few days to get back in shape. And there is some catching up to do when you finally do.
What about the economical side of these exchanges – were you fully reimbursed for your expenses?
For my training exchanges – yes, without a doubt. For Dublin, this has been more challenging. Dublin is an incredibly expensive city, and it got even more expensive over time. Luckily, my wife is also an academic, and we both have things to do in Dublin, so when hotels got very expensive post-pandemic, we were able to do our visits together, sharing the hotel costs between the both of us.
How did you find the process of applying for the Erasmus+ funding, and reporting back after each mobility?
While most funding comes with its challenges, I was surprised how simple and straightforward it was working with Erasmus+ staff exchange. From the application to reporting, there was none of the infamous over-beaurocratisation that is often associated with EU funding. One simple form per step, and clear rules for the exchange.
Is there anything else you would like to tell us? Do you have any tips or suggestions for PhD students who will venture out on mobilities in the future?
I would warmly encourage everyone who considers such an exchange to not hesitate. It is an amazing opportunity without any significant drawbacks.
What are you up to today? Do you think that you can use and benefit from your experiences from these six Erasmus+ mobilities?
As I write this, I am in the last month of my employment at Lund University. I will move to a postdoctoral post at KU Leuven in Belgium at the beginning of May 2023. As mentioned above, I benefited and still benefit from my exchanges. For example, my experiences in Winchester helped me when I was asked to consult on the process of creation of a new multi-faith space at Lund University. Similarly, at KU Leuven there are discussions about creating some spaces for diversity of students, where such expertise might be of use. Similarly, learning about diversity of academic contexts, including approaches to teaching, will make for an easier transition to a new place of work.