Anna Hryb
Joint Faculties of Humanities and Theology
Anna studies Obstetrics and Gynaecology in Lund and appreciates that the education offers a lot of practical training. The weather in Lund was slightly challenging at the beginning but apart from that Lund is great, according to Anna, who has also discovered the student life in Lund and the Nations.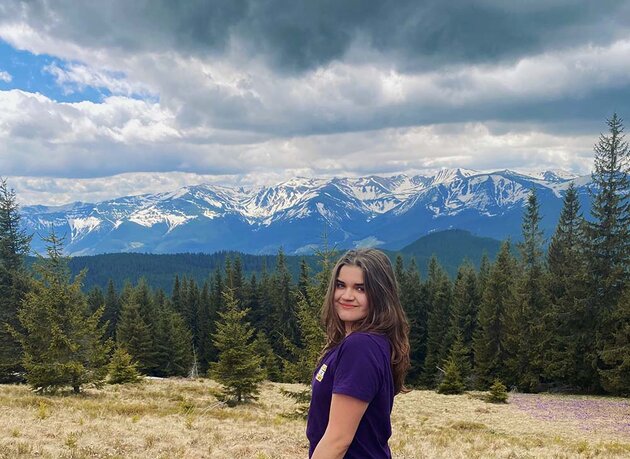 What is your name and your home university?
My name is Anna Hryb and I am an exchange student from Ukraine. I study at the Ivano-Frankivsk National Medical University. The city is situated in the western part of Ukraine and there are a lot of beautiful monuments in the city center. In the Ivano-Frankivsk region there are also the Carpathian mountains, where the photo was taken. I am standing in front of Hoverla, the highest mountain in Ukraine.
When did you arrive to Lund?
I arrived to Lund on the 3rd of January 2023 and I am staying here for five months, until the summer.
What are you doing in Lund University?
As I mentioned I am an exchange student, so currently I study at Lund University. I have studied three courses: SUSA (a short introduction to the Swedish language), SVEE11 (Swedish for exchange students) and Gynecology and Obstetrics. In May I also had "Clinical Placement 1" in the Surgical Department.
How did you experience your first weeks in Sweden?
I really enjoyed my first week here, but I wasn't lucky with the weather, because it was raining non-stop. Swedish people are very friendly and helpful, so I didn't struggle a lot. Of course, I was homesick a little bit, but then I met incredible people from all over the world.
How did it work with the courses you took?
I really love my medical courses, there is a lot of practice in the hospital and all doctors and nurses are really nice, and are willing to help. Unfortunately, in my home country, we have a different educational system and we don't have enough practice.
How do you find the university and your new hometown?
I really enjoy studying here and I love Lund, it is a very peaceful and beautiful town. The transportation is amazing and there are a lot of roads for cycling, even to nearby cities and to beaches. Lund is very student friendly, there are a lot of Nations where you can either relax with your friends, or go hiking in the Skåne region, or take part in dancing classes, or cook some traditional Swedish sweets. There are a lot of discounts for students, for example if you want to go to the gym.

For sure, you would have needed special support in various ways, when coming to Sweden. As regards living and studying in Lund; did you receive a mentor of some kind at Lund University?
Yes, my coordinators, Carolina and Roman, helped me a lot with the accommodation and with the documents that I needed. I am really grateful to them for all their help.

What has been most positive about coming to Lund?
I really like Sweden, the nature is fascinating. I was lucky to see the Nothern lights in Abisko, and to travel around the country a little bit. I really like that Sweden is very eco-friendly and there are a lot of wild animals, which you can meet around the city. I like that there aren't any homeless dogs or cats. I hope that, in my country, this will soon be the case.

I am really thankful for this opportunity, I met a lot of motivated and ambitious people, I got inspired by them.

What has been most challenging?
The most challenging was to leave my family and friends in Ukraine, because I understood there is the war and I would be far away from them. I was homesick sometimes and I really miss my dog in Ukraine!