Series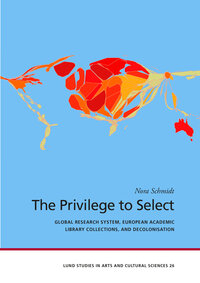 Nora Schmidt
The Privilege to Select. Global Research System, European Academic Library Collections, and Decolonisation
Lund Studies in Arts and Cultural Sciences 26
2020

426 p.
English

ISSN: 2001-7529
ISBN: 978-91-985459-6-8, 978-91-985459-7-5

To European social sciences and humanities researchers, substantial parts of potentially relevant literature published in the "Global South" are invisible. This literature is neither indexed in any subject databases nor acquired by European libraries – a gap virtually unacknowledged by the inform­ation profession and, consequently, also by researchers worldwide.
Uncritical talk about an international research system is omnipresent, and the attribution of the "Global South" as its periphery is not only taken for granted but also serves to stabilise the "Global North's" privilege.
The call for decolonisation is currently gaining momentum in many contexts, especially in heritage institutions. However, academic libraries exempt themselves from this movement if they continue to interconnect user demand directly with vendor-preselection products.
This book develops conceptually and empirically grounded arguments for European academic libraries, researchers, information professionals and research managers, leading to the insight that they can only contribute to global social justice if they radically question their privilege to select and put this privilege on hold. Cooperation in various ways is key to (re)producing and receiving society's knowledge, and to tackling its complexity with cultural humility.
Nora Schmidt holds second-cycle degrees in library and information science, sociology and history of art. The Privilege to Select is her PhD project at the Department of Arts and Cultural Sciences, Lund University.