International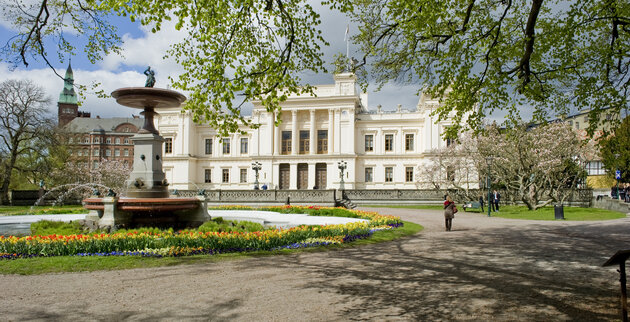 International relations
Through research and exchange, the Joint Faculties of Humanities and Theology strive to constantly develop international perspectives at all levels of activity.
Student exchange
The Joint Faculties of Humanities and Theology hold over 60 exchange agreements with partner universities in Europe and beyond. In addition, the faculties' students can benefit from exchange agreements signed at central level at Lund University, mainly with universities found outside Europe. Each year, around 150 students choose to go abroad for an exchange period, and the faculties welcome over 200 incoming students annually.
More information on student exchange
Teacher and staff mobility
Teachers and researchers at the Faculties of Humanities and Theology can spend periods of teacher mobility somewhere in Europe, through the Erasmus+ Programme, and benefit from the fact that the faculties give an extra allowance, in addition to the Erasmus grant. This is perhaps the reason for the relatively large number of teachers, around 20 per annum, who chooses to go abroad and teach. Administrative personnel of every kind also have the same possibility to go abroad on exchange, although the Erasmus+ grants available are relatively few. Incoming teacher mobility, which adds very much to the international perspectives of the faculties' programmes and courses, are welcomed regularly by each of the faculties' departments.
Information on teacher and staff mobility
Courses taught in English
There is a large number of courses at undergraduate and graduate level that are taught in English. Worthy of emphasis are the so-called SAS courses (Special Area Studies), which have been designed specifically for, exchange students but which are available for Swedish students as well. The Joint Faculties of Humanities and Theology offer 36 courses (each comprising 7.5 ECTS credits) focusing on Swedish, European, but also global dimensions. In addition, the Faculty of Social Sciences, the School of Economics, the Faculty of Law, the International Institute for Industrial Environmental Economics, and the Faculty of Fine and Performing Arts offer additional, interesting courses. In common for all SAS courses is the fact that there are no prerequisites – other than one year of studies at university level – and that they are open to all students, regardless of affiliation.
The faculties' course catalogue listing all courses taught in English (and other foreign languages)
Master programmes taught in English
There are currently eleven Master Programmes taught in English at the Joint Faculties of Humanities and Theology, ranging from Comparative Literature, Visual Culture, to Applied Cultural Analysis.
Full list of Master programmes and more information
Research
The faculties' researchers are involved in countless international research projects. You can search for more project information through Lund University's Research Portal.