Series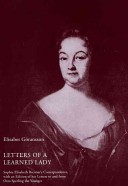 Elisabet Göransson
Letters of a Learned Lady. Sophia Elisabeth Brenner's Correspondence, with an Edition of her Letters to and from Otto Sperling the Younger
Studia Graeca et Latina Lundensia 14
2006

262 p.
English

ISSN: 1100-7931
ISBN: 91-22-02157-4
Publisher: Almqvist & Wiksell International

Keywords: Brenner, Sophia Elisabeth, | Sperling, Otto,

Sophia Elisabeth Brenner (1659–1730) was Sweden's first great female poet, writing and publishing her poems over a period of fifty years. She was also, however, a prolific letter writer.
The present work is based on an inventory of all the preserved letters to and from her written in Latin, Swedish, French and Italian. Her Neo-Latin correspondence with the Dane Otto Sperling the Younger is preserved in a critical edition with English translation and commentary. The other preserved letters are presented in English summaries.
In her letters, Sophia Elisabeth Brenner appears to be very conscious of her role and clear about her ambitions. Brenner's correspondence provides evidence that she was indeed a professional author in the sense that she wrote on commission and was normally paid a certain amount of money for her poems. Through Brenner's correspondence, her professional life, her network, and "marketing" strategies are presented. Moreover, her role as a linguistic patriot (one who contributes to the development of the native language, in this case Swedish) is highlighted.
Further, the letters are discussed in their literary and social context, in particular the correspondence with Otto Sperling the Younger. This particular correspondence documents the unique contact between a learned man and a learned woman in Scandinavia in the early 18th century. It comprises twenty-six letters and lasted for twelve years. Literary models for the correspondence are taken up as well as the view of woman revealed in these letters.