Series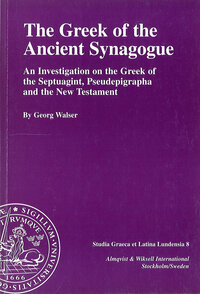 Georg Walser
The Greek of the Ancient Synagogue. An Investigation on the Greek of the Septuagint, Pseudepigrapha and the New Testament
Studia Graeca et Latina Lundensia 8
2001

198 p.
English

ISSN: 1100-7931
ISBN: 91-22-01928-6
Publisher: Almqvist & Wiksell International

Keywords: Bibeln | språk | historia | grekiska språket | 200 f.Kr-200 e.Kr.

This book discusses the existence and nature of a peculiar variety of the Greek language which was used by Jewish and Christian writers between c. 200 BC and c. 200 AD in relation to the institution known as the synagogue. It is argued that this variety arose from the Greek translation of the Pentateuch.
A number of frequent linguistic phenomena – participles, conjunctions, particles – in the Pentateuch are investigated and compared to those in a corpus of other texts. The conclusion is that a group of texts that belong to the context of the synagogue were quite similar to the Pentateuch and to each other, but differed significantly from the texts having no reference to the synagogue. Both the Hebrew original and the translation technique of the Pentateuch influenced this contrast.
The investigation assumes that Greek texts produced in the context of the synagogue, as well as other Greek texts of the period, reflected a common sociolinguistic situation of writing in distinctive ways according to the genre or occasion at hand. This is explored with the concept of diglossia. The peculiar variety of Greek found in the Pentateuch emerges as yet another variety used for a particular genre, intended for a certain audience, and dealing with the same subject. This special variety of Greek recurs mainly in texts from the Septuagint, pseudepigrapha and the New Testament.